The Artists Behind Art D'Egypte's 'Forever is Now' by the Pyramids
Starting October 21st, Art D'Egypte's 'Forever is Now' exhibit by the Pyramids will see some of the most impactful figures in the art world shine a light on the connections that bind us all together.
Contemporary artists shine a mirror into our modern world, while the monuments of the past echo the values of an ancient people. Here in the crossroads of civilizations the Great Pyramids of Giza have stood eternal, and it is here that Art D'Egypte has gathered some of the most insightful artists of our age. Starting October 21st, Art D'Egypte's 'Forever is Now' exhibition will see some of the most impactful figures in the art world come to shine a light on the connections that bind us all together, and on the ties that keep us coming back to one of the earliest cradles of humanity.
ALEXANDER PONOMAREV (Russia)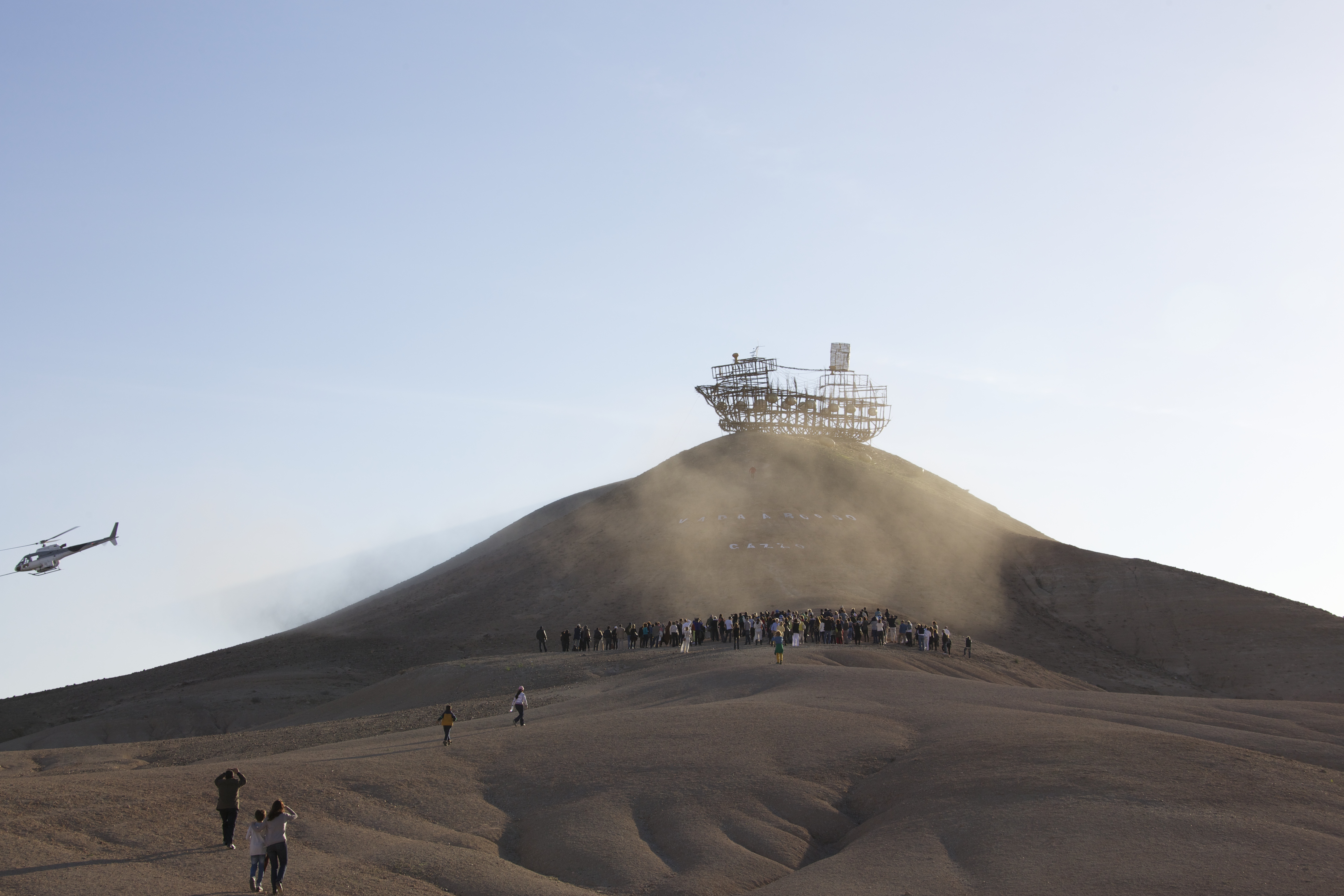 Alexander Ponomarev spent years as a sailing crew officer for the Russian navy before pursuing a career as an artist. Over the past three decades, he has sailed the world to stage exhibits in some of the most remote oceans and deserts in the world, including the Sahara, the Arctic Ocean, and Antarctica. Since 2000, he has embarked on scientific research vessels from the Russian Academy of Sciences to participate in expeditions in Antarctica and the Arctic. As part of the 53rd Venice Biennale, he docked his artistic submarine at Ca' Foscari University on the Grand Canal. He was credited with the idea to hold the first ever Antarctic Biennale of Contemporary Art, which sailed off under the patronage of UNESCO in 2017. He was awarded Officier des arts et des lettres by the Ministry of Culture in France, and is a member of the Russian Academy of Arts. He was named among the top global thinkers by Foreign Policy magazine in 2014, with works in many of the world's major public and private art collections.
GISELA COLON (Puerto Rico)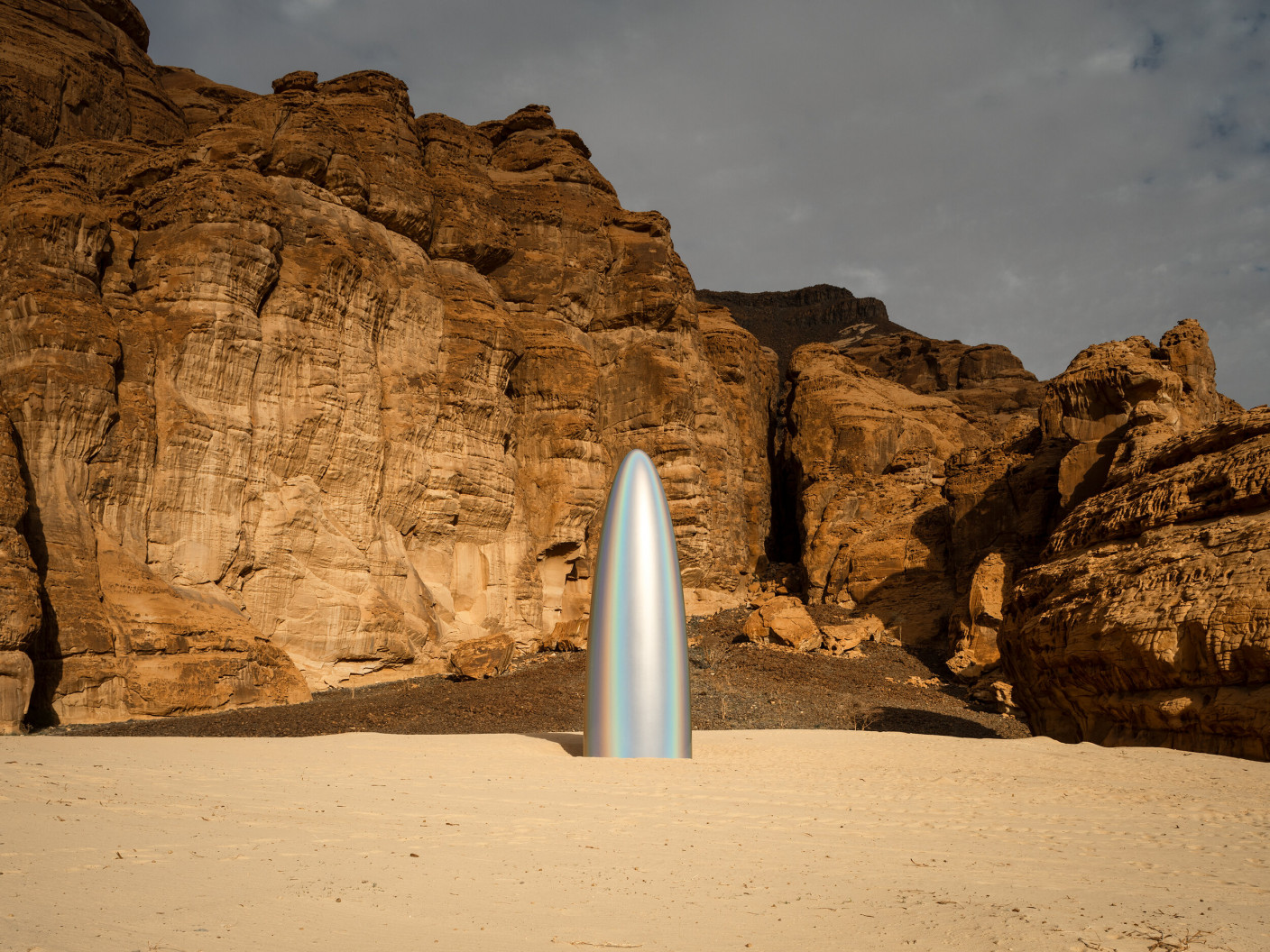 Born in Vancouver, Canada, and raised in San Juan, Puerto Rico, Gisela Colon is an American contemporary artist who has become known for her unique sculptural style of Organic Minimalism. Colon integrates optical acrylics and high-tech aerospace carbon fibre to create reductive shapes with lifelike qualities, integrating science and art with innovative materials that take her sculptures far into the 21st centuries. Her large-scale work has been exhibited across the United States, Europe and the Middle East, including the permanent collections of the Los Angeles County Museum of Art, Perez Art Museum Miami and Palm Springs Art Museum, with her massive sculpture, 'Quantum Shift', currently on display at Frieze Sculpture 2021 at Regent's Park, London.
JOAO TREVISAN (Brazil)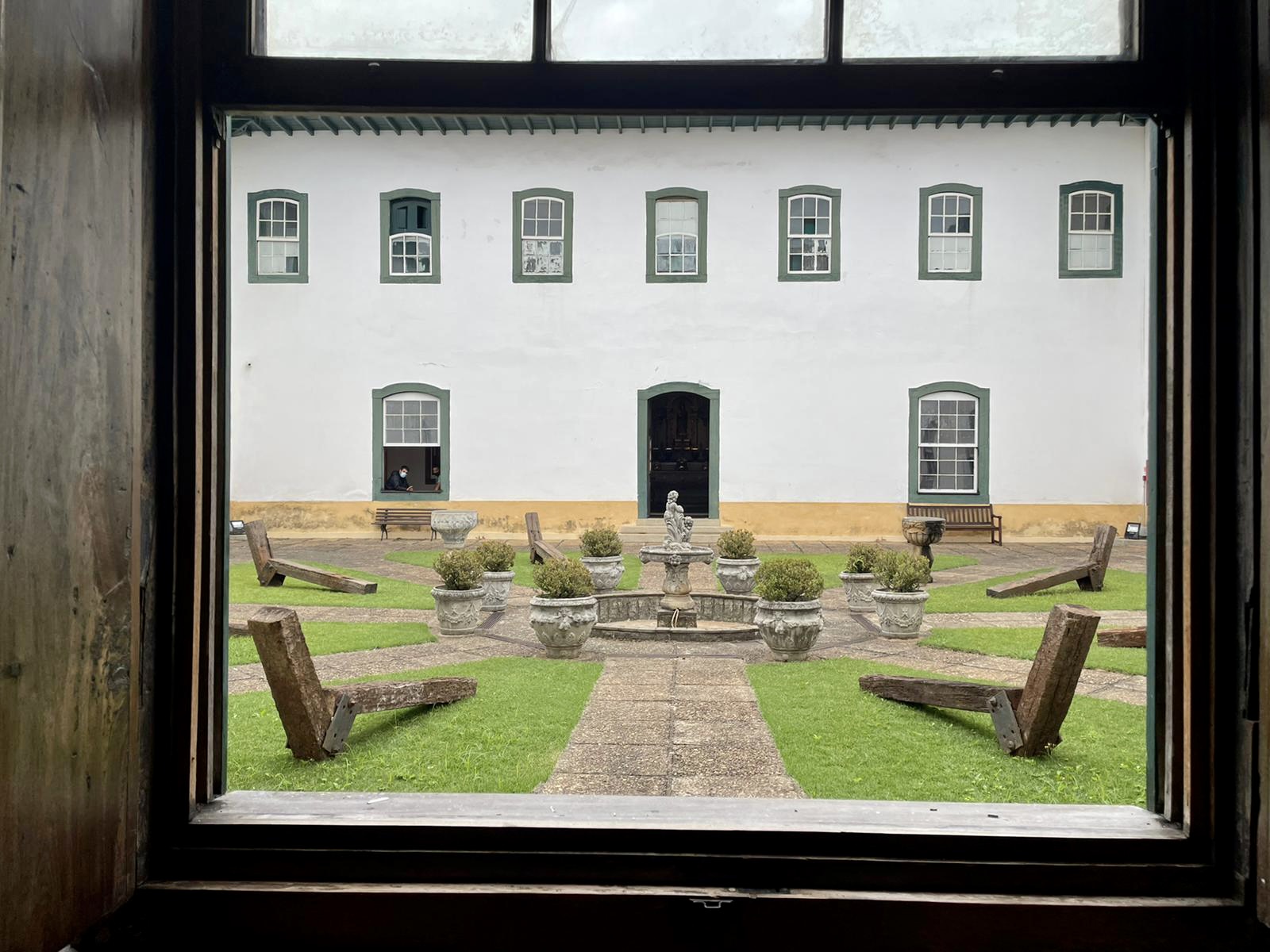 Based in Sao Paulo, Joaeo Trevisan's performance art salvages waste material by exploring its value. He began by collecting discarded iron scrap and ties at the railroad track near him home in Brasilia, Brazil, and turning them into sculptures. After he started holding solo exhibitions across Brazil in 2014, Trevisan was nominated twice for the PIPA Prize - an award to recognise the work of established artists in Brazil's art scene - in 2019 and 2020.
JR (France)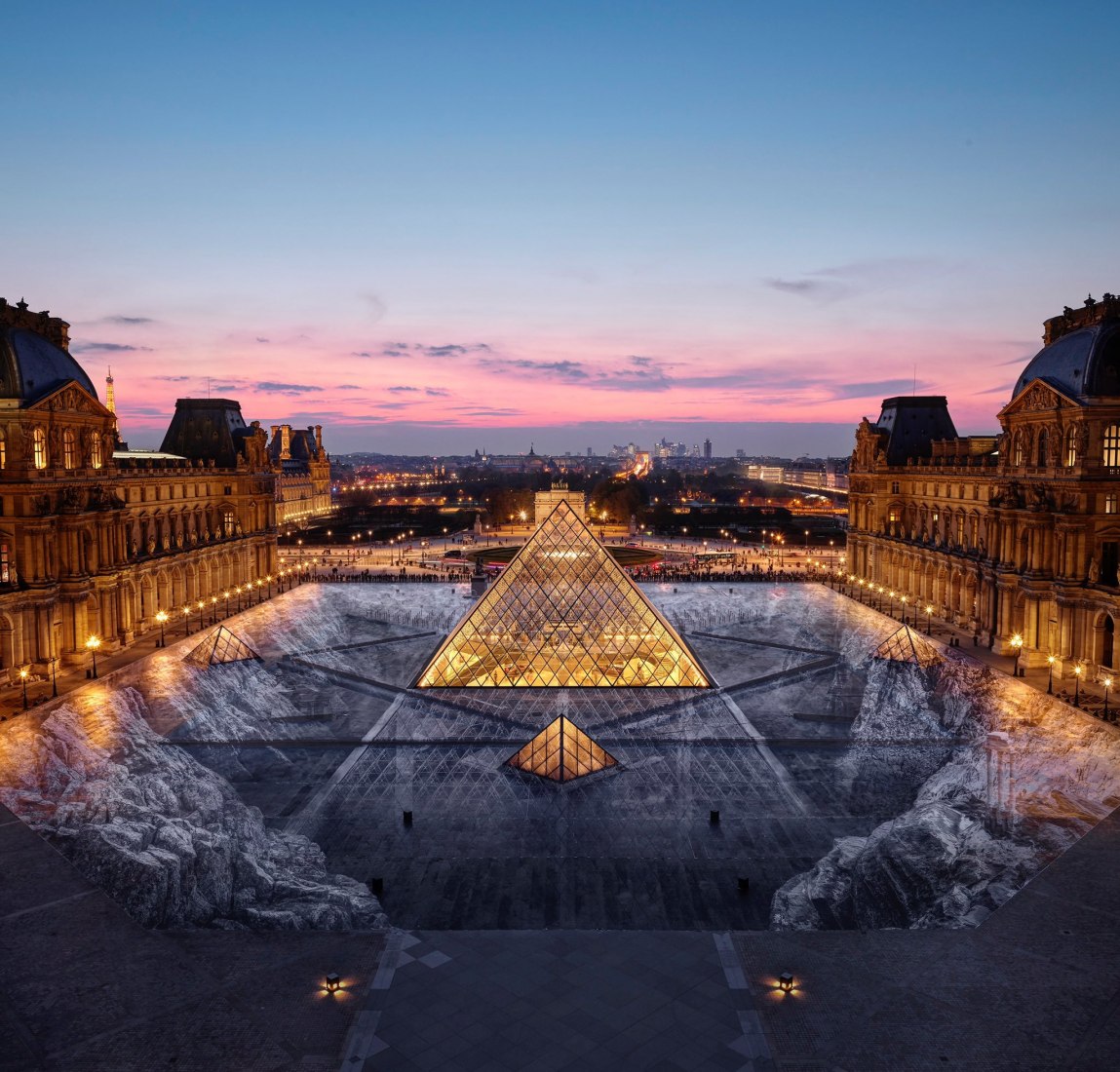 Known for setting up his artwork in unconventional places, JR has exhibited his works in the streets of Paris and New York, and has displayed massive portraits of anonymous people in several cities around the world including Kibera, Shanghai, and Los Angeles. JR received the TED Prize in 2011 after launching an international participatory art project, 'Inside Out', with over 420,000 people from over 138 nations having participated by sending their images to him. Although he works anonymously, JR's art has been making statements and raising questions around the globe, whether it's with a large-scale painting in a maximum security prison in California, an exhibition in the abandoned hospital at Ellis Island, a social restaurant for homeless people and refugees in Paris, and a giant installation by the US-Mexico border fence.
LORENZO QUINN (Italy)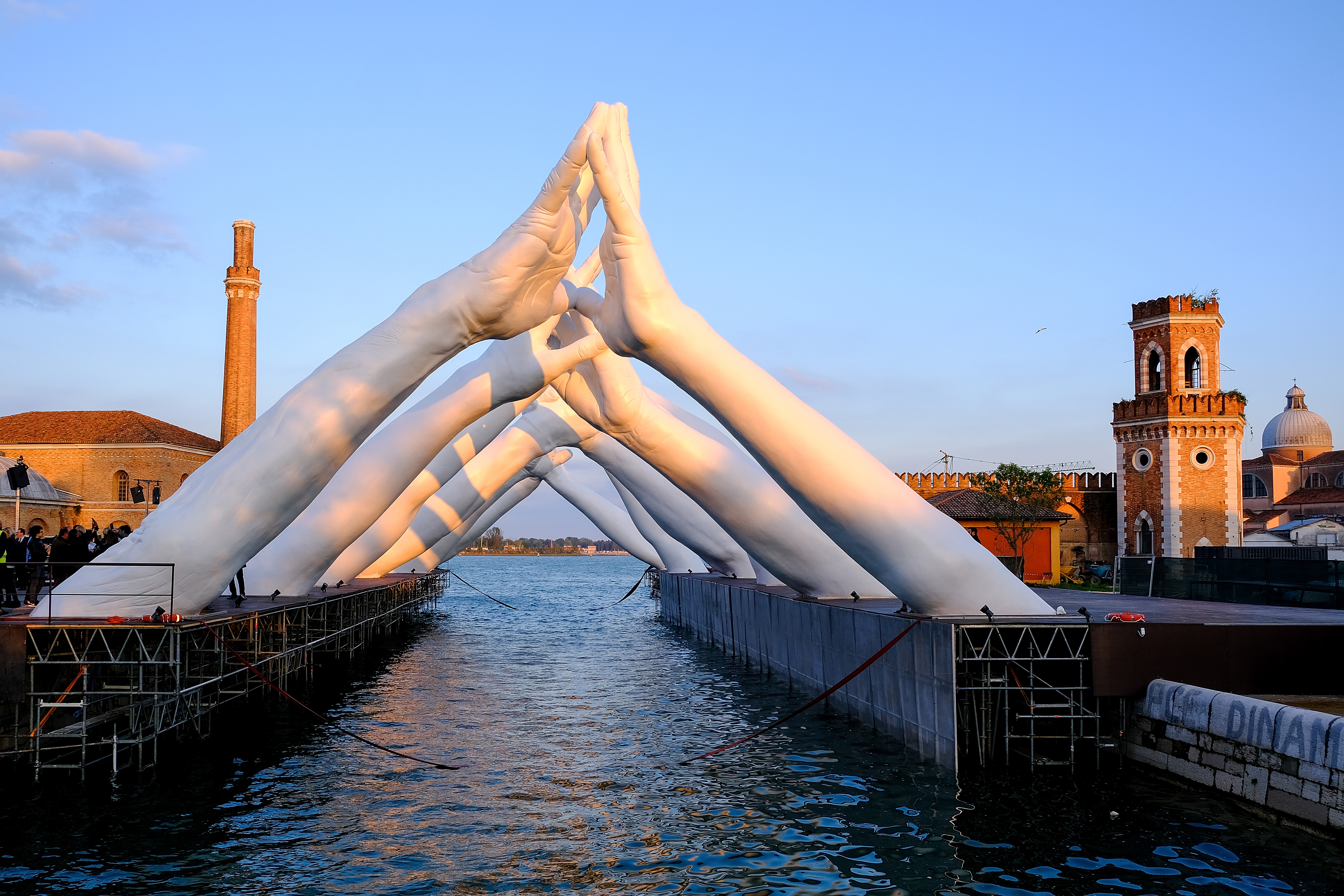 Growing up between Italy and the United States, Lorenzo Quinn is a leading sculptor known for his expressive depiction of the human hand in order to convey universal emotions such as love and faith. After studying at the American Academy of Fine Arts in New York, he left for Spain in 1988. His work has been exhibited all around the globe over the past two decades, including the installation of a monumental sculpture, 'Support', at the Grand Canal in Venice during the Venice Biennale in 2017, the monumental sculpture, 'Building Bridges', at the 58th International Art Exhibition of the Venice Biennale in 2019, and the 'Possibilita' exhibit at Halcyon Gallery in the same year.
MOATAZ NASR (Egypt)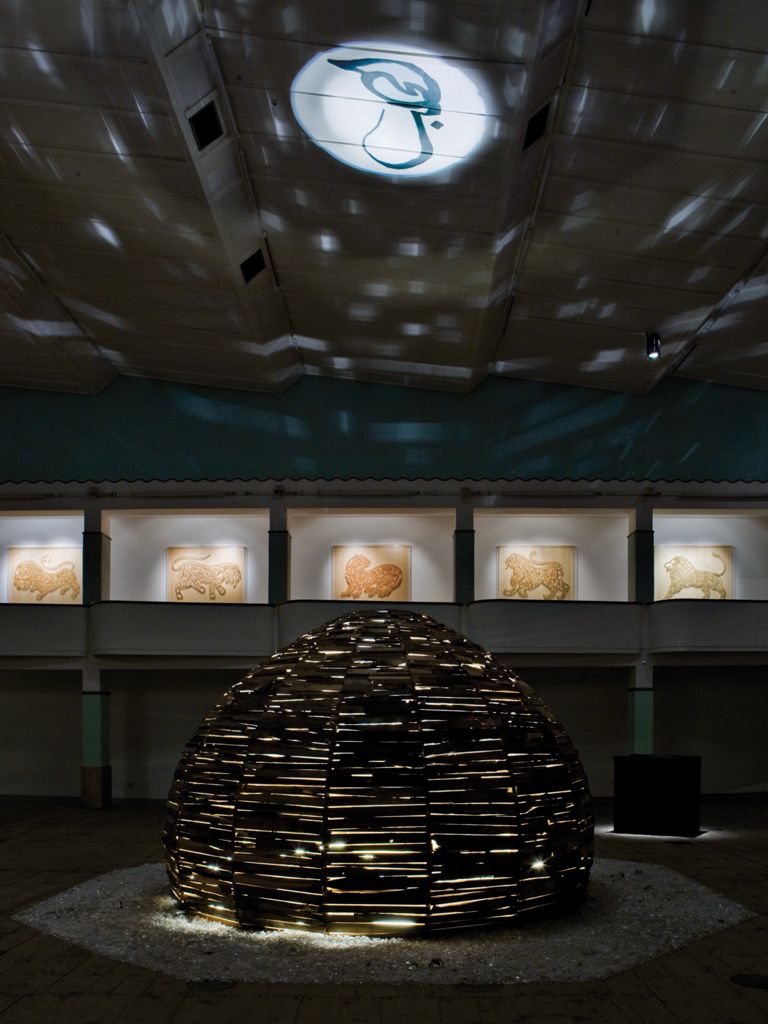 Working out of a studio in Old Cairo, Moataz Nasr is a self-taught artist who catapulted into the international art scene in 2001, after winning the Grand Prix at the 8th International Cairo Biennale. He is thought of as one of the primary representatives of pan-Arab contemporary art, having participated in several international exhibitions including the Bogota, Sao Paulo, Seoul and Venice biennales. Although much of his work depicts Egypt with its particular traditions, customs and colours, it is praised for its universality, conveying all the feelings of indifference, powerlessness and solitude that is inherent in the human condition.
SHERIN GUIRGUIS (Egypt/United States)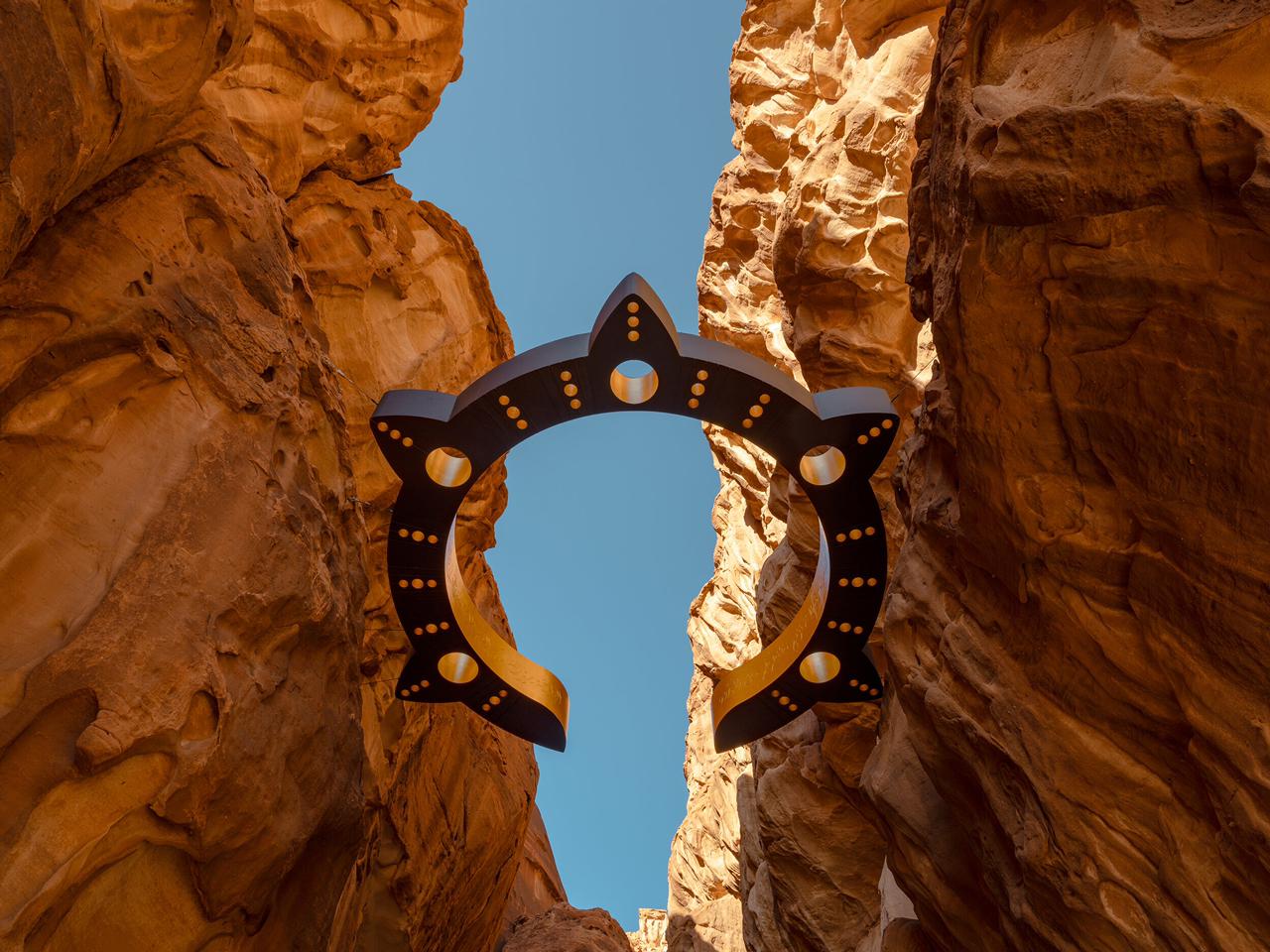 Currently based in Los Angeles, California, Luxor-born Sherin Guirguis' work deals primarily with the politics of place. Her art pulls audiences into a dialogue about power and social transformation, using intensive research to create a deeper understanding of marginalised histories. Her work was most recently exhibited at such venues as the Craft Contemporary Museum in Los Angeles and the American University in Cairo, and are part of the permanent collections of several museums including the Los Angeles County Museum of Art and the Minnesota Museum of American Art.
SHUSTER + MOSELEY (United Kingdom)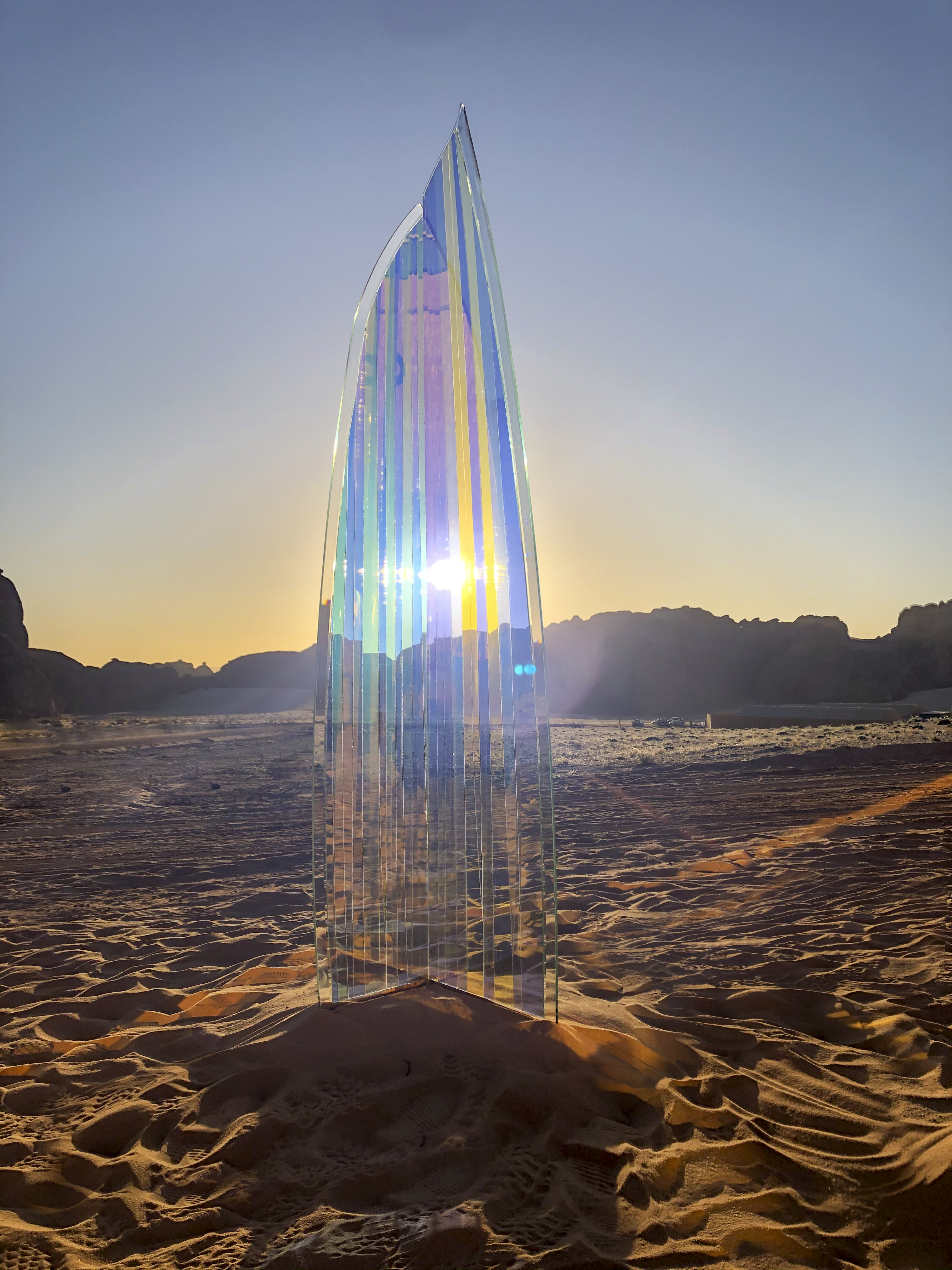 This conceptual art studio - composed of artists Claudia Moseley and Edward Shuster - create light-mobiles, sculptures, and immersive environments that reflect on technology and the nature of consciousness. They are represented by ESPACE in the Middle East, whose partnership enabled their participation in 'Forever is Now'. Shuster + Moseley has created temporary and permanent works using optics, glass and light, with several collaborations with world-class scientists in cosmology and neuroscience, as well as engineers, technicians and architects. The pair was selected for the 2019 Oxford Nano Imaging Artist in Residence Program, which resulted in the creation of 'Brain Gazing', a virtual artwork fashioned after a neural web. They recently set up a permanent large-scale artwork commissioned for the UNESCO World Heritage Site of AlUla, called 'Horizon of Day and Night'.
STEPHEN COX RA (United Kingdom)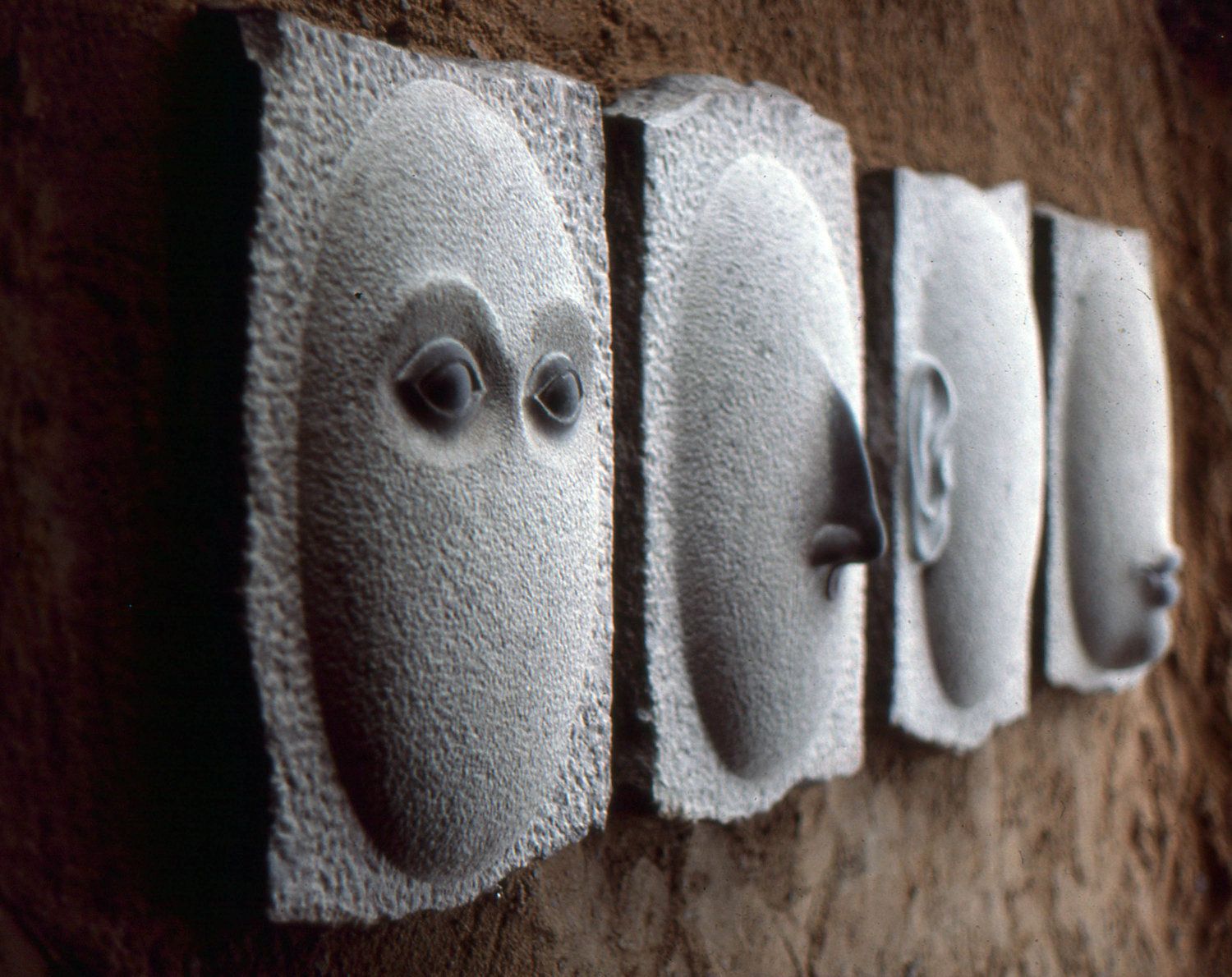 Based in the UK, Stephen Cox built his reputation by developing minimalist 'Surface' structures, before moving to Italy in 1979 where he began to carve with stone. For next five years, his work borrowed from architectural references, particularly inspired by 'Technique', a book by Renaissance artist and diarist Vasari. One stone listed by Vasari stole Cox's attention: Imperial Porphyry, a reddish-purple material that was once found in the private preserve of Roman emperors, but did not have a known source. In 1988, Cox was commissioned to produce a sculpture for the new Cairo Opera House by the British Foreign and Commonwealth Office. Knowing that Imperial Porphyry could be found in the Eastern Mountains of Egypt, Cox established a studio in Hurghada and went on an expedition to acquire the elusive stone, which he finally uncovered and used for the project in 1989.
SULTAN BIN FAHAD (Saudi Arabia)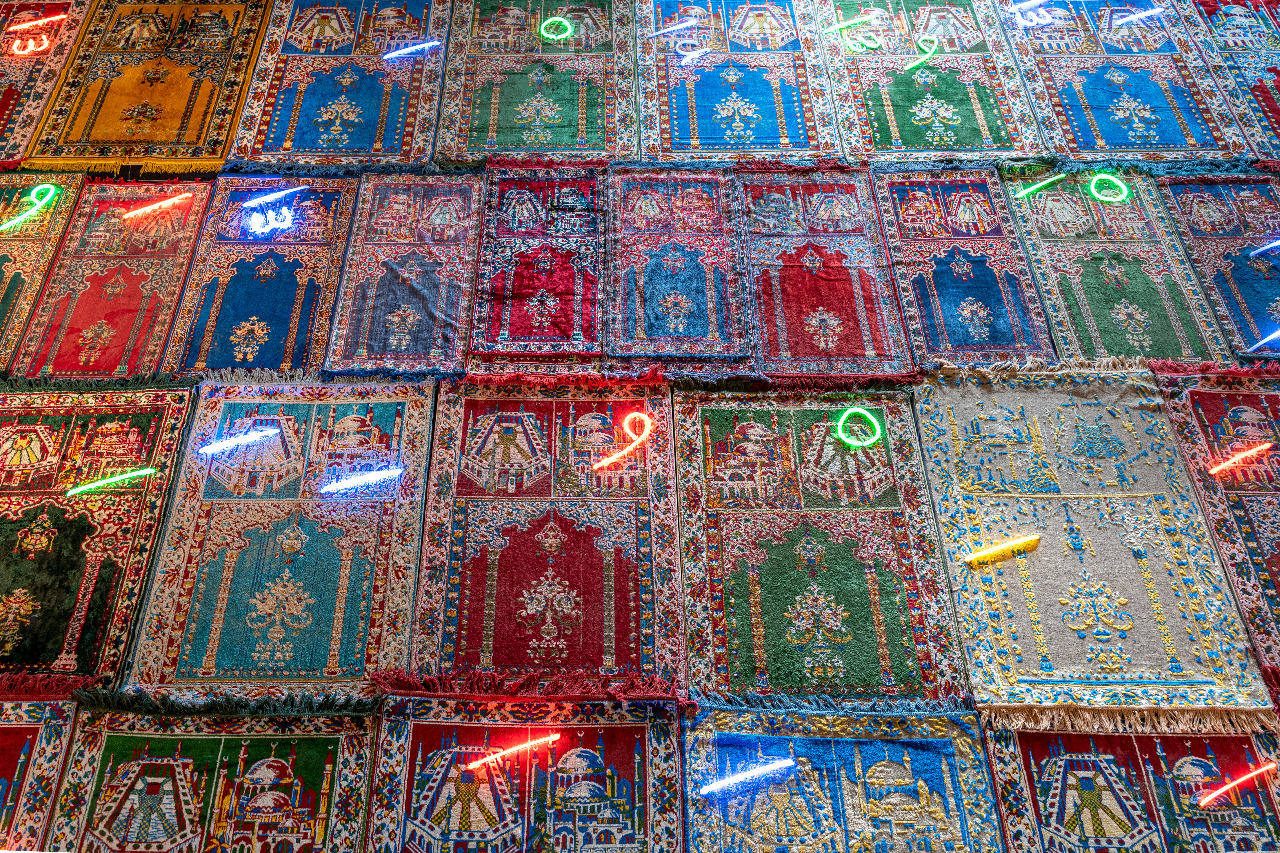 Using material culture to reinterpret the history and narratives of his native Saudi Arabia, Sultan bin Fahad looks to connect the past with the present by evoking multi-layered journeys and reimagining found objects, Islam and Saudi identity. Between 2020 and 2021, bin Fahad was the subject of a solo exhibition at the Fondazione Alda Fendi in Rome, Italy, while his exhibit, 'The Red Palace', toured in Abu Dhabi, Jeddah and Riyadh. Based in Los Angeles, bin Fahad's work has been acquired by the Ithra Museum, the Guggenheim Abu Dhabi, and the Palestine Museum.