The Best 21 New Eats of 2021
We've eaten our way (and feels) across Cairo to find restaurants that push food forward and introduce trends that we hope become classics. These are the restaurants you need to make sure you visit.
These are the new restaurants that floored us the most this year. They're the spots we happily took 70-minute Ubers to get to, and the neighborhood counters that turned Wednesday night takeout into the highlight of the week.
You'll notice that there's only a few fine-dining establishments on this list, and, in a year dominated by delivery and sweatpants, that just makes sense. You'll also find that a bunch of the best new restaurants started as pop-up projects in 2020. We'll chalk that up to pandemic-era ingenuity, and we hope that the trend continues. So, to shine a spotlight on our favourite new places this year, we enlisted not one, not two, but three people to eat around the country: Menna Shanab, Omar Alaa and yours truly. Together and separately, we traveled hundreds of kilos to bring you the best of the best. We hope you'll be able to take some of these culinary journeys with us. When you're ready, make sure to pop by these places and support them because there's no better way to show your appreciation that by just doing that: eating your feels.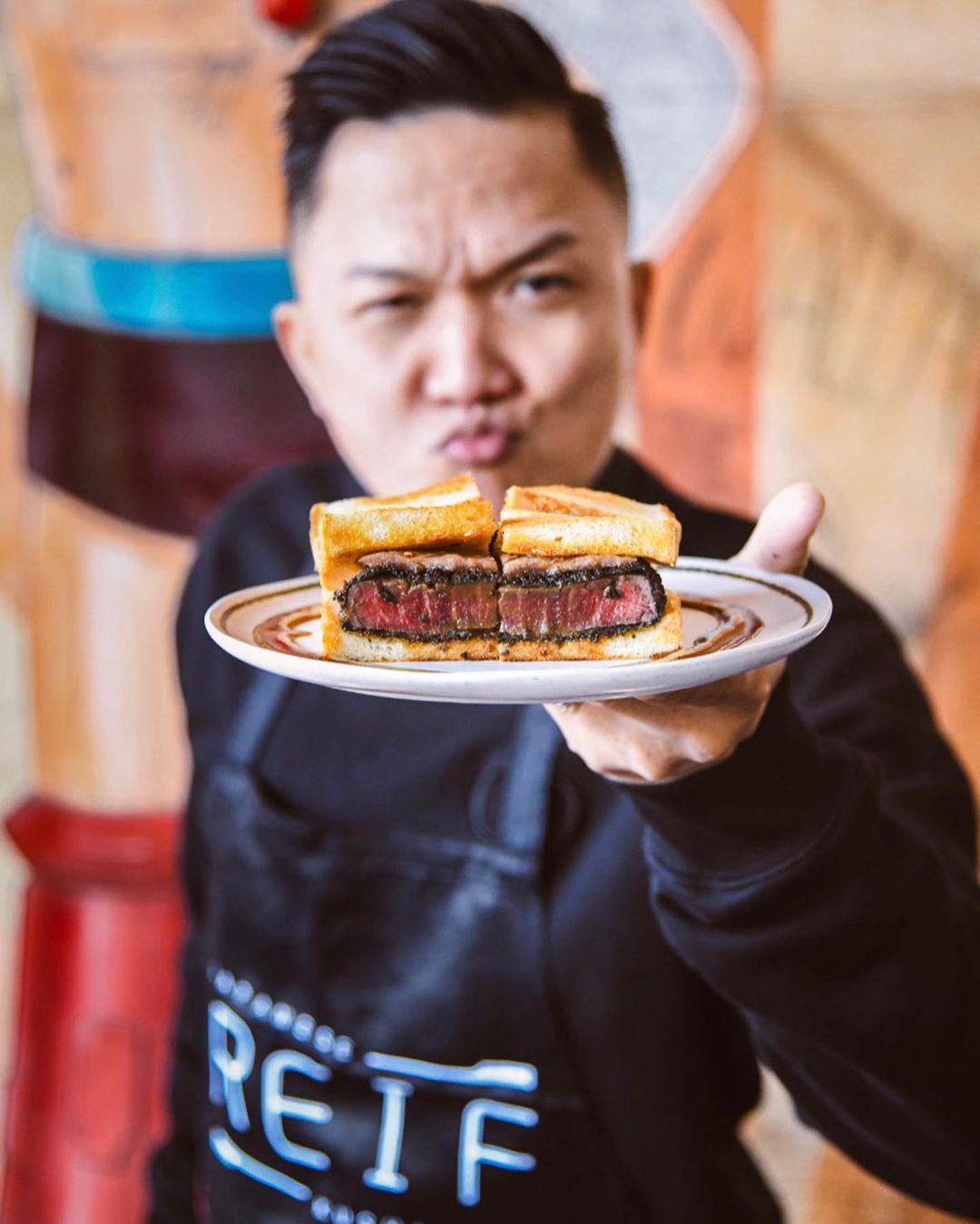 Reif Othman with a sando at Reif Kushiyaki
REIF KUSHIYAKI
Reif Othman is a well-known name on Dubai's foodie scene, so it was no surprise to see him join forces with household name Ayman Baky to bring his critically-acclaimed eatery to Om El Donia. What you'll need to watch out for on their menu is most certainly the Sanchoku Wagyu Sando, which is essentially the tastiest sandwich you'll ever eat this year. Already an Instagram star in its own right, cuts of perfectly pink Wagyu are sandwiched between a punchy tonkatsu sauce and two slices of toast.
Telephone: +2 0128 0446 862.
Address: 5A by Waterway, New Cairo
KYUKA
There's sushi and then there's sushi from Kyuka. This new spot is, without a doubt, what sushi dreams are made of because it will revolutionise everything you thought you knew about sushi and turn it upside down…starting with the Instagrammable decor of the place. Earth-friendly sushi is Kyuka's calling card. You won't find large-carbon-footprint items flown in from a Tokyo fish market here. And while delicious nigiri from local and sustainable ingredients—like scallops from Montauk—is worth snagging a seat for in the jewel-box-sized space, it's everything else on Kyuka's tight menu that leaves the bigger impression.
Telephone: NA
Address: Waterway 2, New Cairo
SPIN
There's a reason why this shawerma joint is the best in the country because it has the power to transport you to four different regions with one small bite. Spin doesn't just serve your everyday Egyptian shawarma, it also makes Greek, Turkish and Syrian shawarma.
Telephone: NA
Address: Foodcourt 2, Madinaty
MARIO'S TRUCK
There are many ways to enjoy seafood but we all know the fried seafood just hits differently. Mario's seafood sandwiches and light bites all feature their signature light and crispy batter. They have a range of crispy fried everything including Gamberi Fritti (fried shrimp) and Pesce Fritto (fried fish) served in really cute paper cones. They said no more boring ass fries as a side and we're here for it!
Telephone: +2 0106 107 0382
Address: Walk of Cairo, Sheikh Zayed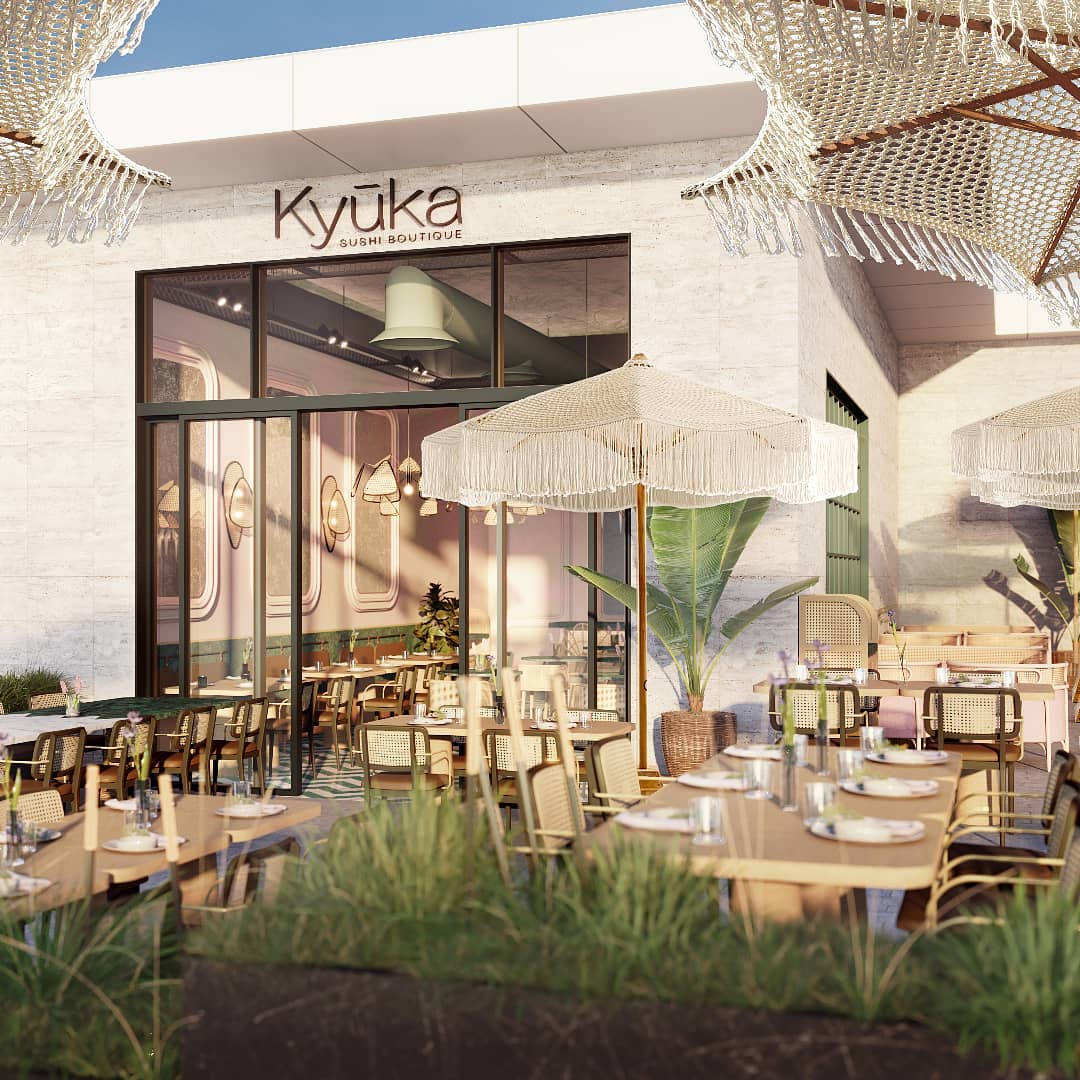 Cairo's newest sushi boutique: Kyuka
ESCA TERRENAL
Probably the coolest-looking venue on this listicle, Egyptian designer Mohamed Badie was able to transform an old warehouse into one of Cairo's newest dining destinations. Esca's original home is in Heliopolis, so we can't help but feel elated now that it has brought its fancy, schmancy Mediterranean eats to New Cairo. We totes recommend having their octopus because it's fresh af.
Telephone: +2 0100 605 6055
Address: 5A by Waterway, New Cairo
MACARONITA
The pasta joint makes all of their pasta from scratch, but they're not just here because of that. They're on this list because renowned chef Mohamed Salah created the entire menu for this restaurant. Make sure to try their truffle or chocolate pasta.
Telephone: +2 0102 980 0099
Address: Street 88, Palm Hills, 6th of October
BAOGR
These little babies are soft as a pillow and steamed to perfection. The little pockets of fluffy goodness are stuffed with a wide range of mouthwatering savory fillings that incorporate unique ingredients, making for delicious Asian-American fusion creations. From your classic bao fixes like slow-cooked beef and duck confit to their signature line of bao burgers, BAOGR is reinventing this Taiwanese staple in numerous forms.
Telephone: +2 0155 448 4977
Address: 102 B El-Thawra St, Almazah, Heliopolis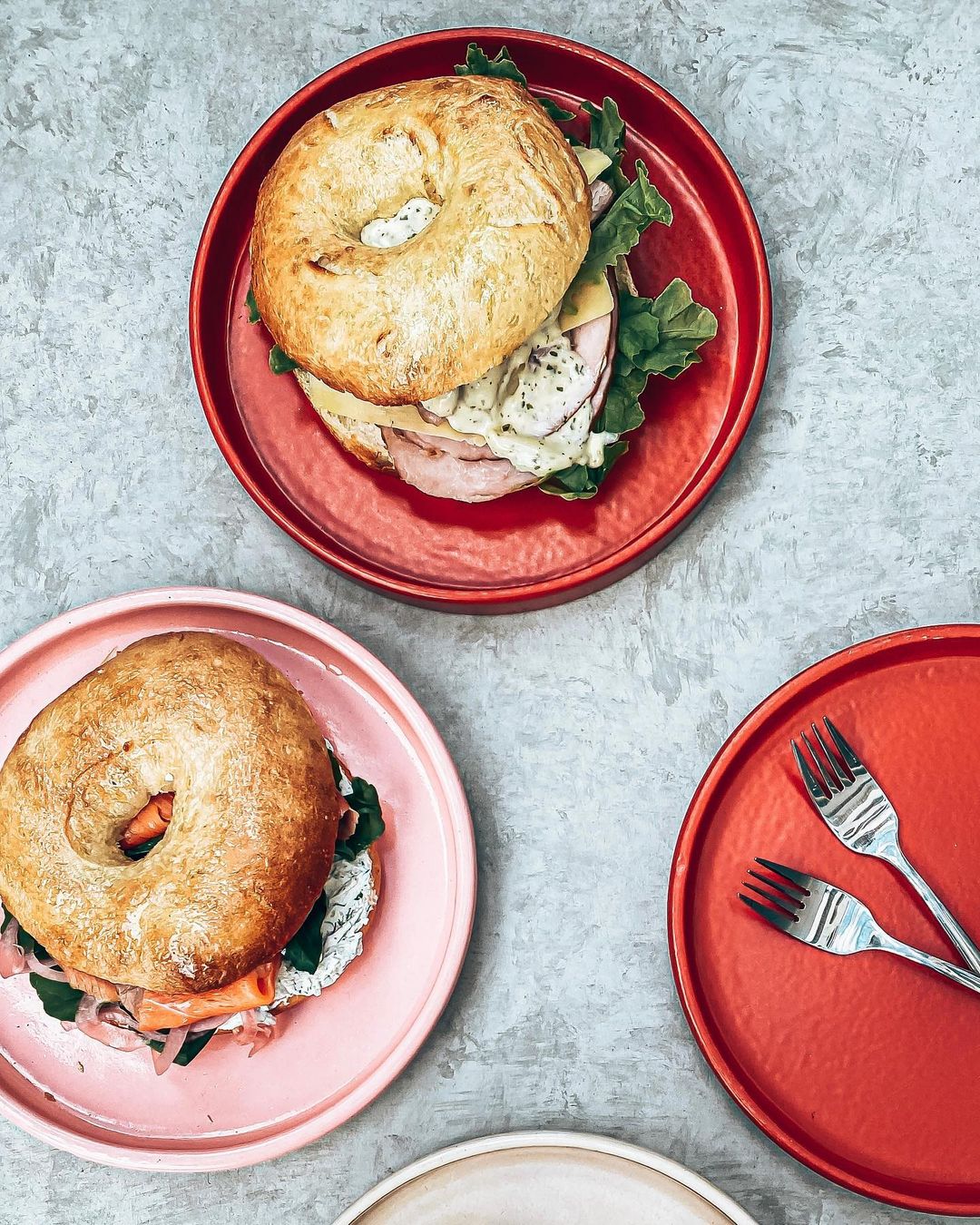 The bagels at Cult
CULT
Enter The Cult, a new joint that, not even joking, wants you to join their cult. The decor is simple yet stunning and we are honestly considering moving there because, well, duuuh. When it comes to their menu, they decided on picking the most Pinterest-looking things that could ever exist, which is why they resorted for acai bowls and matcha tea. But, if you're not into those kinda things (we totes judge you btw) we want to also let you know that they make cold brews and bagels of all sorts. Again, extra points for Instagrammable everything.
Telephone: NA
Address: Twelve by Platform, Sheikh Zayed
LE FLANDRIN
Emily in Paris who? Bringing a breath of Parisian cuisine to the heart of Cairo, Le Flandrin is serving brasserie-style dishes that look like literal pieces of contemporary art. Indulge in their masterfully crafted and beautifully plated fine dining dishes and you have to save room for their exquisite collection of delicate French desserts. Oh, and they have their own in-house bakery.
Telephone: +2 0122 221 2781
Address: 5A by Waterway, New Cairo
LORIS
Ya Allah! The iconic Beirut-born Lebanese restaurant has finally made its way to Sheikh Zayed and we are living. What makes their menu stand out is that it takes your basic Lebanese dishes and then elevates every single one. Their tabbouleh, fattoush, fatteh don't taste like their normal counterparts because they're the Loris versions of them.
Telephone: +2 0105 054 0541
Address: Galleria40, Sheikh Zayed
HARAT
With everything looking all blue and white, there's no escaping that Grecian fantasy tbh. What makes everything complete is the menu because you'll be having all the gyros, moussaka and pastisio you could ever want which will all be drowning in tzatziki sauce. Yum.
Telephone: NA
Address: Mohamed Youssef and Abbas El Akkad intersection, Nasr City
GALA
Originally located in 6th of October, the concept restaurant launched by Il Loft dishes out fusion cuisine that mixes between Italian, Mediterranean, and a number of Asian staple dishes. Among their menu items are rustic wood-fired pizza, pasta, Asian summer spring rolls (that are perf for whatever season), sushi rolls, teriyaki beef, and a huge selection of gluten-free desserts including blueberry cinnamon cake and chocolate caramel bomb. So basically, they've gotten something for whatever mood you'll find yourself in.
Telephone: +2 0103 255 0196
Address: 5A by Waterway, New Cairo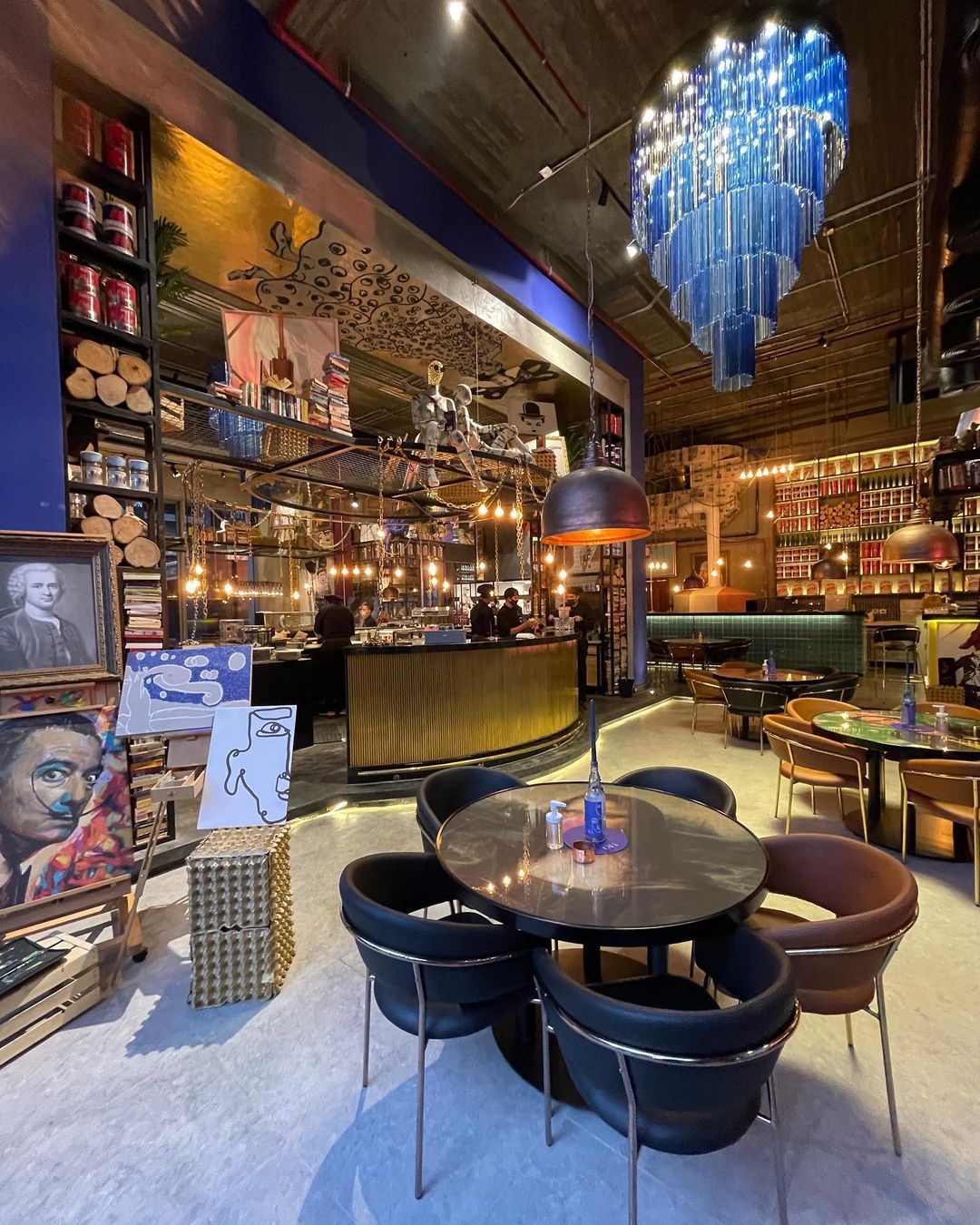 The atmosphere at Gala
SHAWERMA BEIRUT
The place only has time for Lebanese shawerma, and maybe that's why it excels. Everything from the sandwiches to the fattah and meals taste like a million geneh because the chicken (or beef) are so juicy you won't even believe it. Make sure to also try their tabbouleh.
Telephone: +2 0101 169 2421
Address: Street 231, Commercial Center 9, Maadi
DICKEY'S
If you don't know Dickey's, listen carefully to what we're about to say. Dickey's is iconic because of their beef brisket, St. Louis-style ribs, Polish sausages, spicy cheddar sausages, smoked turkey, marinated chicken, and their extensive array of home-style sides from jalapeño beans to macaroni and cheese. Buttery rolls are served with every meal along with complementary ice cream.
Telephone: NA
Address: City Centre Almaza, Heliopolis
TIANMA
You don't need a reason to go to Tianma. You need to just go. Right now. It will be the most rewarding culinary Asian (or any tbh) experience of your life.
Telephone: 02 25979000
Address: 1189 Nile Corniche, Boulaq
SAGRA
We won't say anything other than the fact that you need to just try any of their Neapolitan pizzas. Just any of them. Thank us later.
Telephone: +2 0127 007 0011
Address: The Drive, New Cairo
SACHI PARK ST.
Basically, think of all the things that made you fall in love with Heliopolis' Sachi and then multiply it by 10 because that's exactly how you'll feel at Sachi Park St.
Telephone: +2 0127 866 6185
Address: Park Street, Sheikh Zayed
DIRTY COOKIE
Featured on Forbes, Extra TV, The Today Show, Good Morning America, The Food Network, The Cooking Channel, and a plethora of other American media, this dessert shop has come home after its Egyptian-American founder has decided to give Om El Donia a taste of their delectable selections. The Dirty Cookie has been a Los Angeles celebrity favorite from the Kardashians, Osborne's, Charlie D'Amelio, Kerry Washington, and Mena Massoud.
Telephone: NA
Address: Garden 8, New Cairo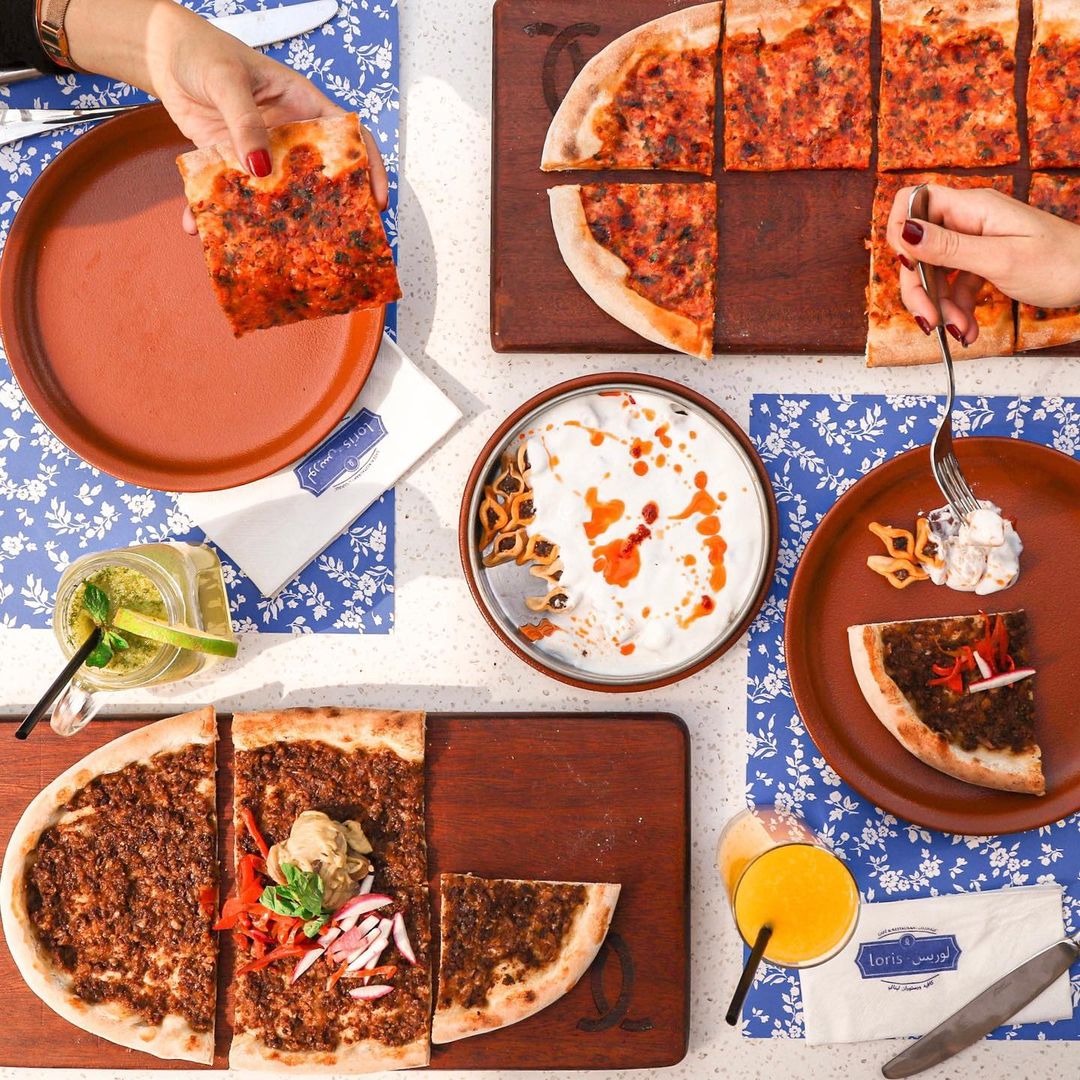 The manouche at Loris
KAMIKATSU
Reason number #1 is sando. For the first time ever, Cairenes can now enjoy the iconic Japanese sandwiches -- from the Steak Katsu Sando with panko crusted seared South-African tenderloin in a perfectly golden-browned to a crusted minced beef with their Burger Katsu Sando and so much more. They also haven't forgotten about you vegetarians because they have options like their Halloumi Katsu Sando with caramelised onions and tonkatsu sauce.
Telephone: +2 0127 955 9975
Address: Arkan Plaza, Sheikh Zayed // Lakehouse, New Cairo
WIMPY
Wimpy was around in Egypt, but one day, their restaurants closed down, taking their cute chubby beefeater mascots with them. But now, they're back - and they've given themselves the glowup of the season. While the food's the same (because who would ever dare change their Old School Burger?), their look is not. They've changed the entire vibe of the whole place in a sleek and modern way.
Telephone: 19606
Address: 47, Ahmed Abdel Aziz Street, Mohandessin // El Sa'a Square, Abbas El Akkad, Nasr City
JONES THE GROCER
Yes, the self-proclaimed 'unconventional grocery store, café and cheese room' that you've seen plastered across all of your dainty Dubai friends' Instagram accounts has landed in Egypt earlier this year bringing all of their iconic dishes with them.
Telephone: +2 0105 054 0840
Address: Galleria40, Sheikh Zayed // O1 Mall, New Cairo