You Need to Visit These 4 Hidden Asian Supermarkets in Cairo
We did the homework so you don't have to.
Sure, your local Seoudi or Metro market might have an international aisle where you can get some of the basics you need for Asian cooking, but no, just no. Why, you ask? Because in terms of variety and price, you, as a food lover (I'm just going to assume that you are), owe it to yourself to brave up and get all the ingredients from an actual Asian market.
You might be wondering what the hell are Asian markets and where does one find them, well, let me enlighten you. These shops are an immigrant's lifeboat, and they tend to have an array of products that will surely confuse all shoppers. Stores range in size and scope, with some of them having entire aisles dedicated to ramen, and others located inside restaurants. I've done my homework and found the best ones so your taste buds could take a little visit to Asia, without ever needing to pack a suitcase.
TOMATO // STREET 232, MAADI
Located on Maadi's Street 232, Tomato stands quietly next to Metro market with no sign ever indicating that it exists. The restaurant serves classic Korean dishes such as bulgogi and bibimbap, and the store within includes items like kimchi, fish cakes, Korean tea and coffee and so many other options. If you're planning on ever throwing a Korean BBQ at yours, this is the place for you.
LUYA // STREET 233, MAADI
Nestled away on Maadi's Road 233, Luya offers Chinese products like no other. From an aisle that's only dedicated to soy sauce, to vegetables like bok choys and daikons that you won't find anywhere else. Word of advice, however, none of the owners speak English or Arabic so you best know what you're looking for or bring a friend who speaks a little bit of Standard Mandarin.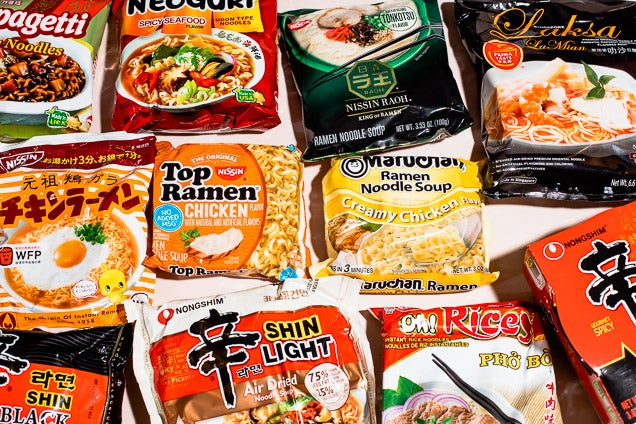 The noodle section Almo Mart
PINOY STORE // ABDEL MONEIM RIAD, MAADI
Pinoy, which translates to someone who is from The Philippines in Tagalog, is a Filipinx shop that will have things you won't believe you could get from Cairo. From instant pancit noodles to dried bananas and Mama Sita sauces, the shop will have everything you need for your Filipinx cooking. The owners are a lovely Egyptian and Filipina couple who will be more than happy to help you with any recommendations or questions.
ALMO MART // 7TH DISTRICT, NASR CITY
The newest player in the underground Asian market scene, Almo has everything you could ever think of. From fish cakes to mochi ice cream, ramen and everything in between. It don't matter if you fancy Chinese, Japanese, Filipinx food, they've got them all.