Look Up at the 5 Most Magnificent Mosque Ceilings in Cairo
Unravel the wonders of Islamic architecture with some of Cairo's most striking mosque ceilings.
Old Cairo harbours the oldest secrets of Islamic architecture, housing a treasure trove of monuments from the Fatimid Empire to the Ottomans. Ceilings were of great importance to Muslims as worshippers looked up to the sky to speak to God in mosques. Faced with blank canvases, architects were tasked with ornamenting ceilings in a way that honours the divine.
MADRASA-KHANQAH OF SULTAN BARQUQ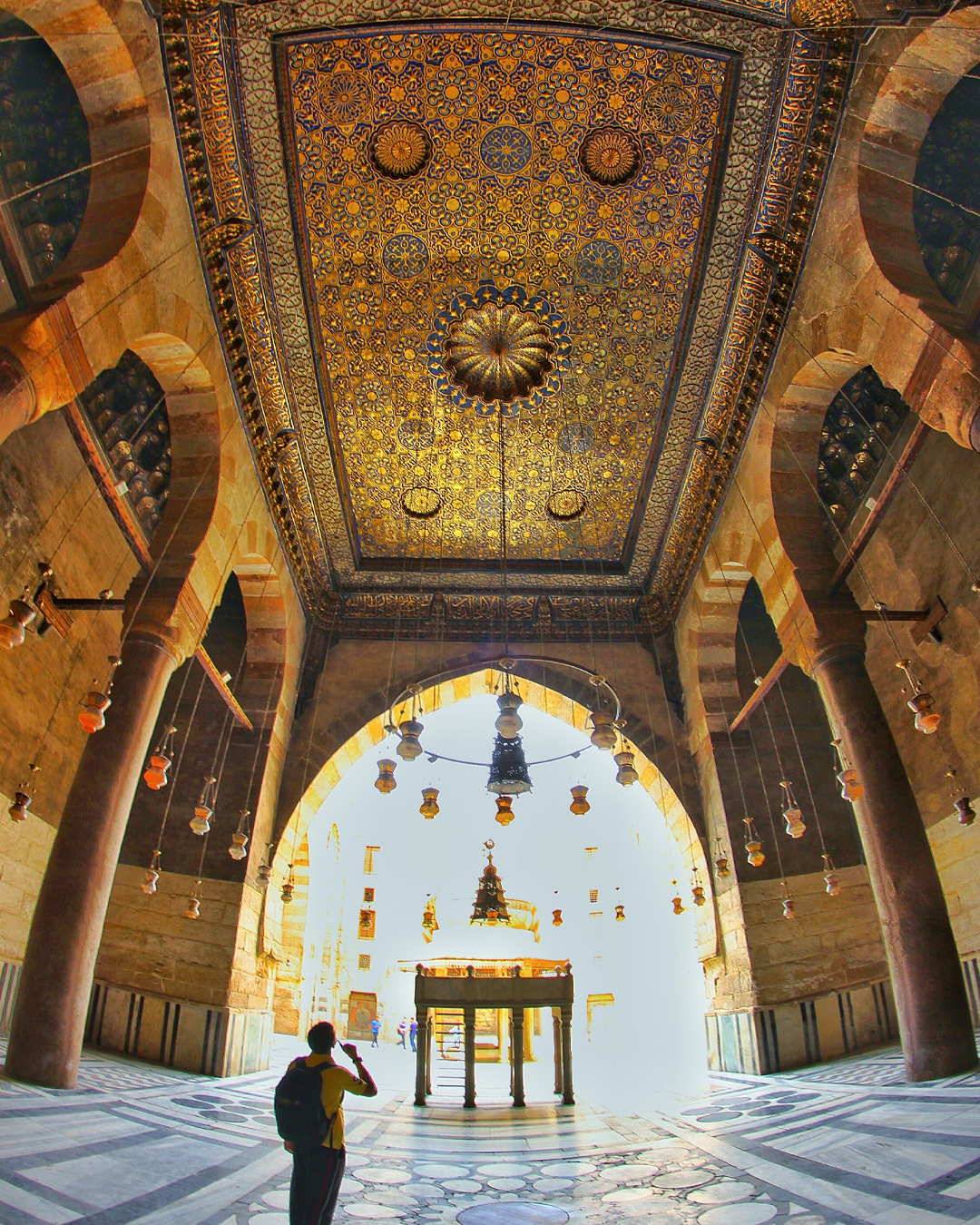 Established in 1386, this was the first building to take on a Bahri Mamluk style. The ornate ceilings are adorned with blue and golden floriated arabesques and geometric patterns, which have carried over to contemporary illustrations of Qurans. The ceiling above the sufi sanctuary is made of richly painted carved wood, considered an outstanding innovation for its time.
MOSQUE OF MUHAMMED ALI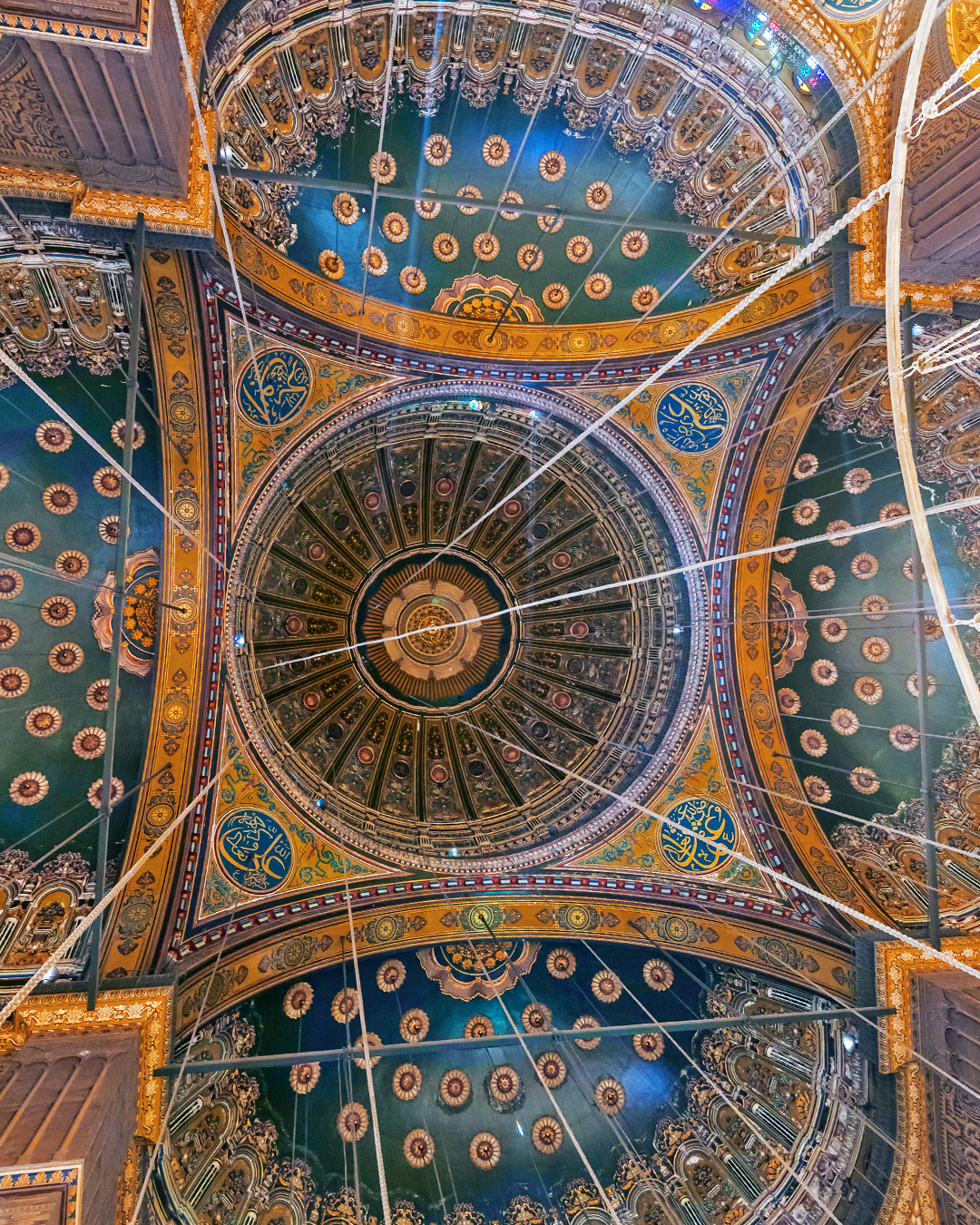 The 19th century Mosque of Mohammad Ali - also known as the Alabaster Mosque - was built as a representation of the ruler's spiritual authority as deputy to the Ottoman Caliph. Towering over the grand hall is a masterpiece of alabaster carved in dense and colourful ornaments. Gold and blue floral patterns dazzle, illuminated by the warm light of small lamps hung about the room, creating a grand spectacle of light.
AL-RIFA'I MOSQUE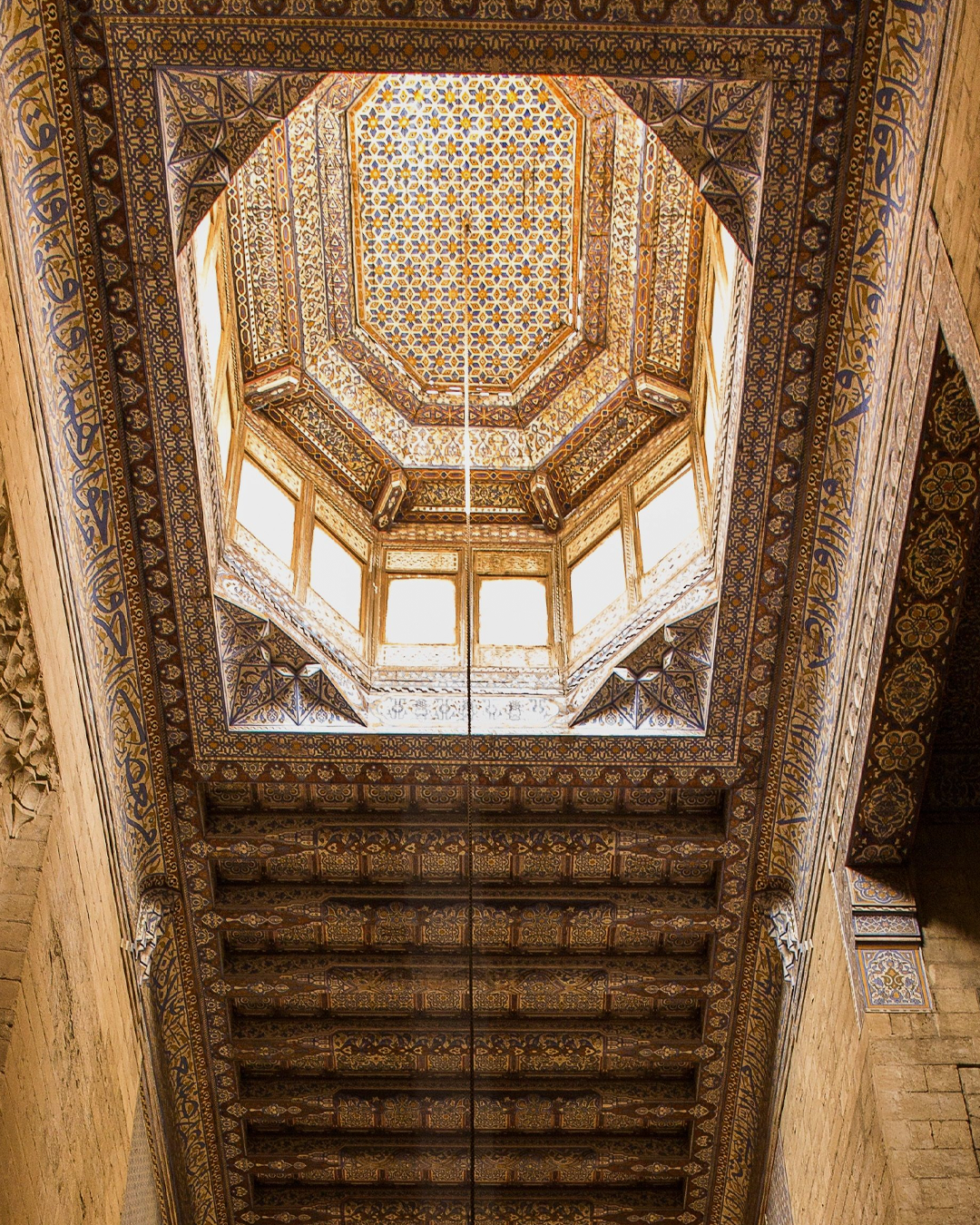 Built as a burial place for Khedive Ismail and his family, the neo-Mamluk mosque is a work of exquisite craftsmanship and enormous expense. Its chambers all have gilded ceilings. The prayer hall, however, flaunts a richly decorated golden ceiling imported from Turkey, with 19 different types of marble imported from seven countries throughout the mosque.
QALAWUN COMPLEX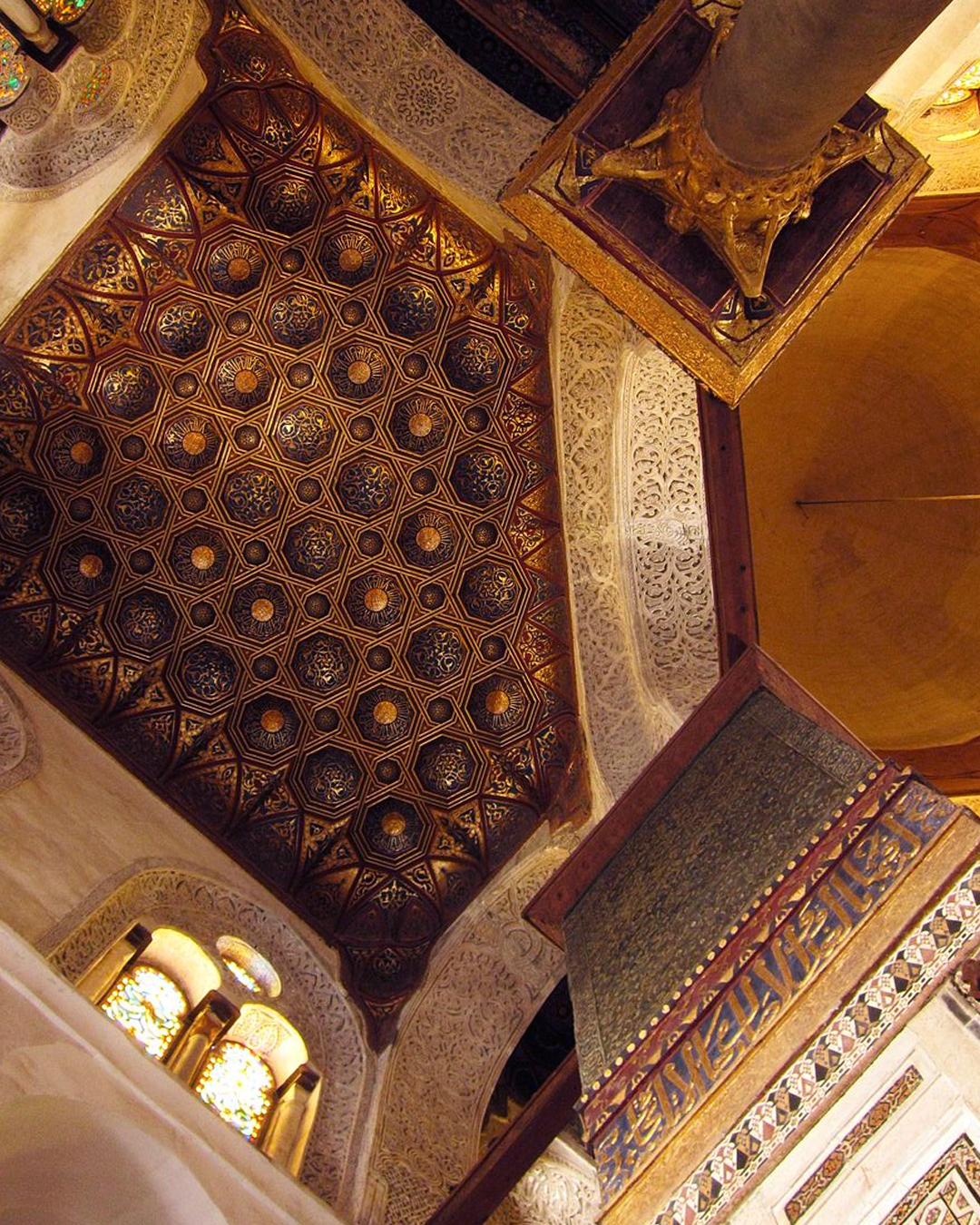 An ode to the grandeur of Mamluk decorative arts, the famous Qalawun Complex is widely considered the world's second most beautiful mausoleum, following the Taj Mahal in India. Built in the 1280s, the complex was the crowning glory of Sultan al-Mansur Qalawun. The ceiling is masterfully coffered with beams complemented by walls of marble mosaic inlay and polychrome stone.
ASLAM AL-SILAHDAR MOSQUE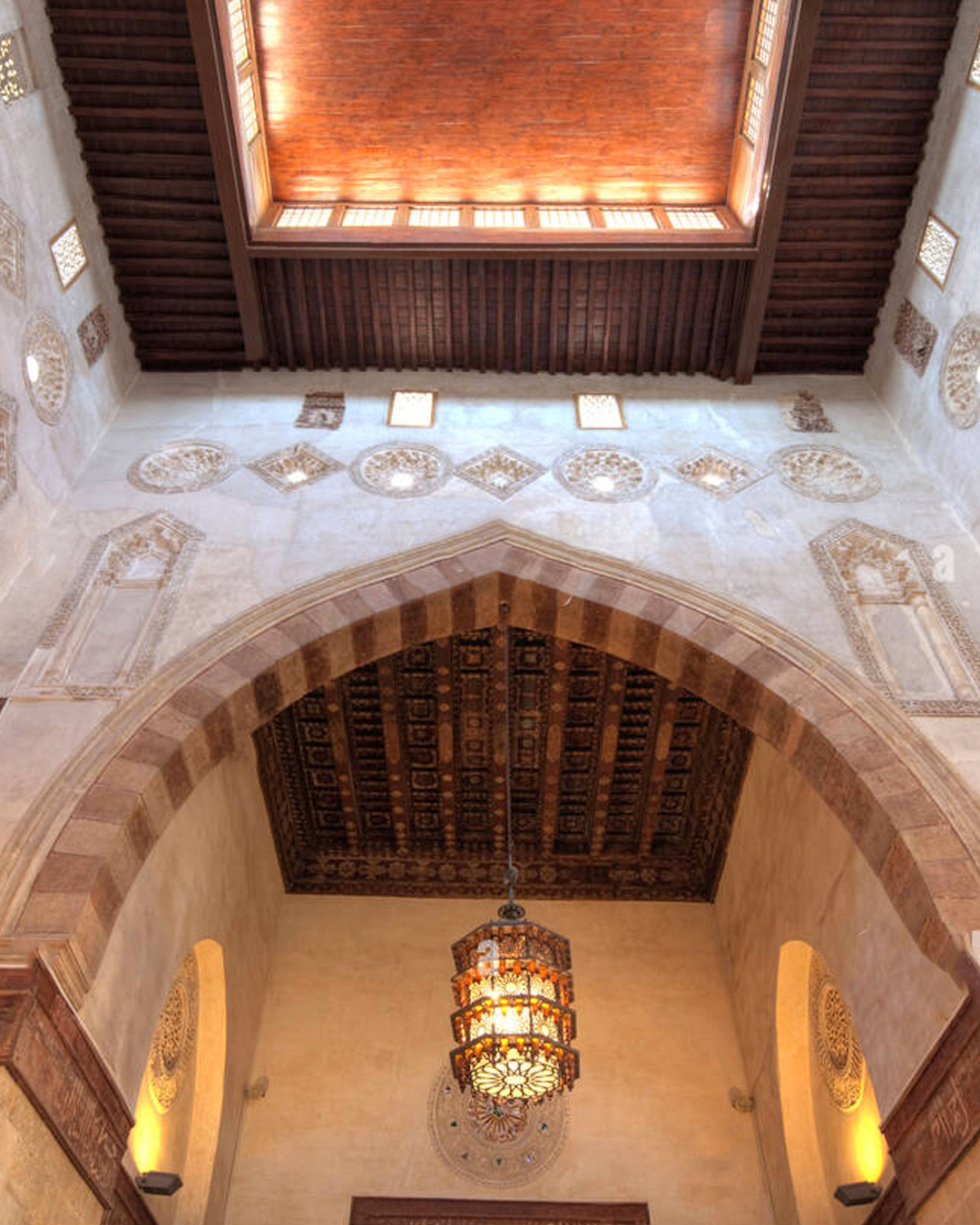 A signature feature of Mamluk-era architecture was the elaborate use of carved and gilded wood, whether on door panels, shutters and, of course, the ceiling. The 14th century marvel features stone-cut mosaic floors that flow in perfect harmony with the marvelous wooden vaulted ceilings covered with multicolored oil paintings and marble columns. Further adding to the splendor of the mosque are the stucco ornamented walls fashioned with vivid stained glass mosaics.